Chazey Partners – Management Consulting
Chazey Partners is a practitioner-led global management consulting and advisory services firm. We bring a unique blend of real-life, practical, hands-on experience, empowering our clients to strive for world-class excellence through Shared Services, Business Transformation, and Robotic Process Automation. We pride ourselves in helping businesses and public sector organizations achieve operational excellence…
Chazey Solutions
Events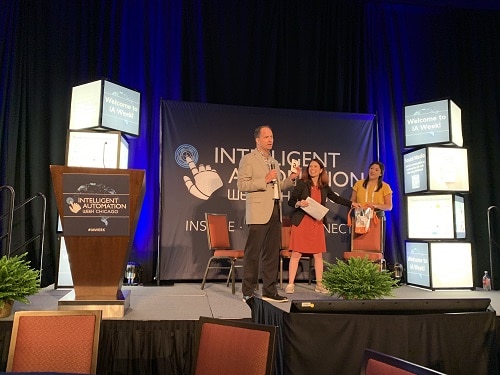 SSON's Intelligent Automation Week
Hyatt Regency
601 Loyola Ave
New Orleans
Louisiana

70113
US
Runs December 3 – 6. 2019.
Chazey Partners will be Presenting!
This event focuses on Robotic Process Automation, Machine Learning, Cognitive Technologies, and Artificial Intelligence in the Shared Services and Outsourcing community. Attendees will gain insights and be updated on the happenings in digital transformation.
At the event, Chazey Partners, will be presenting a session on developing effective IA Pilots.
Research shows that approximately 50% of IA Pilot Programs fail. Thus requiring an organization to re-evaluate their failed programs and to try again.
In this session, we focus on Pilot Design Thinking Principles, ensuring the pilot program is user-centric, meets the diverse needs of your IA customers, and allows for further program growth and improvements.
Presenting the session will be Chazey Partners' own CEO & Founder, Phil Searle, joined by Craig Ackerman, our Global Head of RPA.
To learn more about the event, please visit: SSON Intelligent Automation Week New Orleans.
Read Our Client Stories
The Program Support Center (PSC), a function of the U.S. Department of Health and Human Services (DHHS), initially engaged with Chazey Partners to provide strategic whitepapers. and consulting on various shared services topics. This work evolved to the team providing educational sessions on our five service lines on metrics and industry standards. Their work included…
Ann-Marie Massenberg
,Former Chief of Staff, PSC, U.S. Department of Health and Human Services
CEO and Founder Phil Searle talks about shared services.
Check out more videos on our YouTube channel and don't forget to Subscribe.
View this page in:
Español (Spanish)

Português (Portuguese (Brazil))