Chazey Partners, a global management consulting firm specializing in Shared Services, Business Transformation and Robotic Process Automation (RPA), has partnered with the Shared Services & Outsourcing Network (SSON) to produce a Global Business Services (GBS) report, which delineates the current state of Global Business Services (GBS) and details the most detailed picture yet of the present-day GBS landscape.
Over many years, the Shared Services model has proven to be an effective means of delivering standardized, high quality and cost-effective business support services.  Leading practices Shared Services organizations have evolved the model into a more holistic, end-to-end, globalized and enterprise-wide support offering.  This has enabled the realization of even greater benefits, including tightly aligned support for the strategic mission of the enterprise, truly standardized and automated end-to-end processes, and better leverage and use of data and analytics.  This has come to be known as the Global Business Services model.
The Shared Services and Outsourcing Network (SSON), the largest and most established community of shared services and outsourcing professionals in the world, surveyed some leading GBS organizations in late 2017 to identify why they chose a GBS strategy, how they have structured it, the advantages it yields, how it is supporting transformation, and why it is a good enabler of data analytics and intelligent automation.  Chazey Partners supported the report based on its team's first-hand experience as shared services practitioners and proven transformation approach, that has been adopted by many businesses around the world.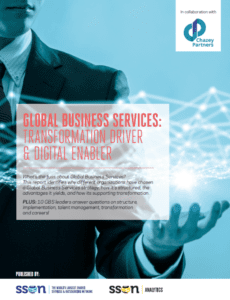 Phil Searle, CEO & Founder of Chazey Partners, said: "We are delighted to partner with SSON to produce such a timely and valuable white paper.  A GBS model can certainly deliver both strategic and operational benefits far beyond that of a more traditional Shared Services model.  Yet to achieve its full potential, organizations implementing a GBS model must overcome numerous challenges such as internal politics, functional silos, multiple technology platforms, bureaucratic decision-making, resource limitation, and cross-enterprise process ownership".  Phil further added, "Even if a 'fully implemented' GBS model is not readily attainable or is perhaps not suitable for the enterprise today, by striving for a level of 'globalization', organizations can still reap the benefits from the GBS model in a way that is practical, relevant, appropriate and achievable."
Barbara Hodge, Chief Editor of SSON, commented: "Chazey Partners has been a trusted and valued strategic advisor to SSON for more than 12 years.  The firm's first-hand experience as former Shared Services practitioners and its innovative thinking have encouraged us to again work with them to produce this report.  Some of Chazey's leading partners offered their insightful viewpoints on key aspects of the GBS model, such as Robotic Process Automation, Services Management, Reporting Structure & Governance, and Global Process Ownership.  I firmly believe this GBS report will benefit SSON's members significantly."
Download the report of Global Business Services – Transformation Driver & Digital Enabler
About Chazey Partners
Chazey Partners is a practitioners-led global management consulting and advisory services firm. We bring a unique blend of real life, practical, hands on experience, empowering our clients to strive for world class excellence through Shared Services, Business Transformation and Intelligent Automation. We pride ourselves in helping businesses and public sector organizations achieve operational excellence in the delivery of mission-critical business services; including Finance, HR, IT, Procurement, Facilities Management, Customer Helpdesk, and many other support services.  For over twelve years, Chazey Partners has helped our clients implement successful service delivery solutions; in the US & Canada, Latin America, Europe, Middle East, Africa, Oceania and Asia.