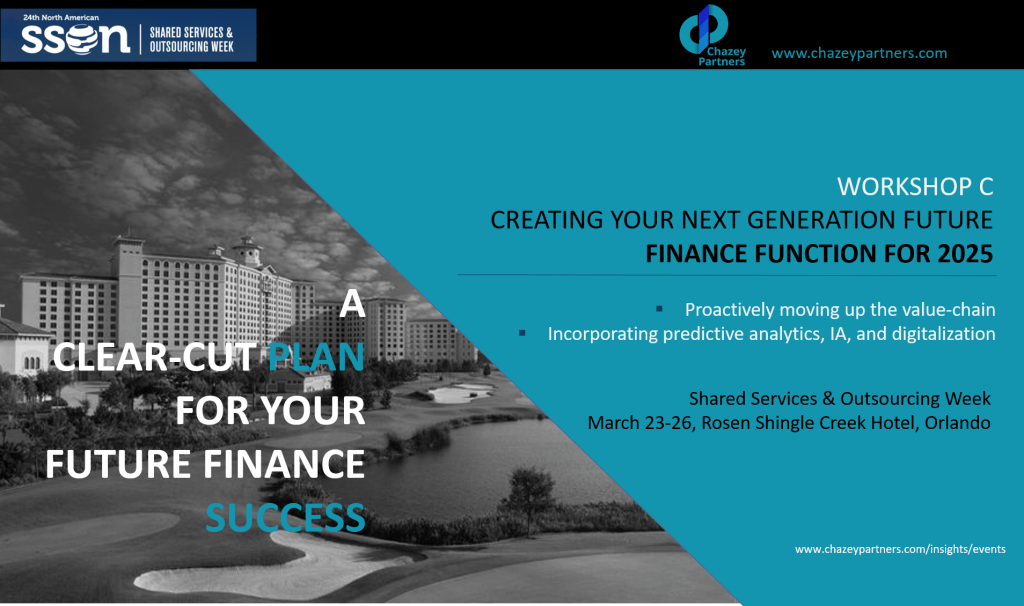 It's 2020! And it is time for Shared Services & Outsourcing Week Orlando again!
Aug 31 – Sept 3, 2020, Rosen Shingle Creek, FL, US
This year we will be leading a workshop entitled "Creating your next-generation future finance function for 2025".
Sometimes it is necessary to reinvent the wheel. Outdated legacy systems, manual, messy processes and workflows, and teams who need to be reskilled to embrace digitization are all common aspects of the pre-transformation journey within finance SSOs and GBS organizations.
And yet, in 2020, the Finance SSO leader has a vast array of tools in his or her kit to proactively address functional and business-wide transformation. In this session, strategize how your finance function can transform, and walk away with a clear plan for the future.
You will discuss:
From "Back-Office" to "One-Office" – proactively moving up the value-chain to support enterprise-wide decision making
The role of predictive analytics, IA, and digitalization on your future operations
How to create SWOT teams for Finance who are trusted experts in their field.
Tangible Takeaway:
Head back to your office with a clear-cut plan for your future financial success, understanding how to drive your continuous improvement and digitalization efforts, and all of the tools at your disposal to establish your function as valued and trusted business partners.
Presenters:
For more event details, please visit the official event website.
Come enjoy the conference with us at the beautiful Rosen Shingle Creek in sunny Orlando Florida!