[Istanbul, Turkey, April 2018] – Chazey Partners, a global management consulting firm specializing in
Shared Services
,
Business Transformation
and
Robotic Process Automation (RPA)
, is thrilled to announce the establishment of a new company in Turkey in partnership with
Standards & Partners (SnP
), a leading tax and management advisory firm in Turkey.  The new company will provide integrated Robotic Process Automation solutions to companies in Turkey, including RPA assessment, RPA Proof of Concept & vendor selection, RPA business case & roadmap, RPA Center of Expertise implementation, and RPA training.
Founded in 2006, Chazey Partners operates across the globe, with regional offices in 12 countries, including Turkey.  The company supports public and private sector clients with shared services, business transformation, technology enablement, automation, digital transformation, enterprise wide security and sourcing advisory. Chazey Partners was listed in the latest edition of CIOReview as one of the 20 most promising Robotics solution providers 2018.
RPA is a software solution, commonly referred to as "bots", which mimic or automate tasks normally performed by humans interacting with data between systems. As organizations continuously strive to achieve more streamlined operations and leverage the significant volume of data available today, RPA is one of the latest automation propositions that promises a quantum improvement in the quality and efficiency of business processes and service delivery.  In Turkey, RPA is in its infancy, but the opportunity is significant, because of the size and diversity of the Turkish economy as well as the fact it has a relatively young and dynamic workforce.
Combining Chazey Partners' deep cross-industry experience, methodology, global partnerships and market insights with SnP's local presence, team and expertise, the new collaboration provides organizations in Turkey with a 'best in class' Robotic Process Automation solution, that will enable them to take a performance improvement leap, and gain significant competitive advantages on both a local and global scale.
Phil Searle, CEO & Founder of Chazey Partners, explains: "We are now entering the fourth Industrial revolution!  The rise of Intelligent Automation, including Robotic Process Automation, is a big part of this new wave, and will have a profound impact on the way work gets done.  A hybrid workforce, made up of a mix of humans and bots, is inevitable. People and businesses will need to embrace the new economy and learn new skills to both take advantage of this opportunity and to stay competitive.  We view the opportunity in Turkey as a significant one, both for our own partnership with Standards & Partners and for the Turkish economy in general".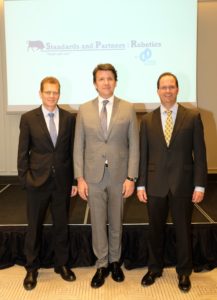 Murat Yilmazsoy, CEO, Standards & Partners, adds: "Chazey Partners is one of the leading organizations that provides Intelligent Automation solutions for companies of all sizes across the globe.  We are honored to partner with Chazey Partners, to leverage their deep industry expertise to educate the market on digital transformation and help companies in Turkey to implement digital transformation solutions such as Robotic Process Automation."
Craig Ackerman, Global Head of RPA, Chazey Partners, comments: "Standards & Partners has proven to be a really innovative consulting firm in Turkey. We are thrilled to now be working with SnP to share our experience in implementing RPA to deliver meaningful business impact.  We look forward to working on multiple client engagements in Turkey over the coming months and years".
The announcement of the new company was made on 26th April 2018 in Istanbul Turkey, during an RPA executive forum organized by both parties.  The forum was attended by over 60 senior executives from leading organizations in Turkey, such as Halk Bank, Altinhas Holding, Alarko Holding, and Coca-Cola İçecek.
For more information on Chazey Partners' Intelligent Automation solutions, please visit here.
About Chazey Partners
Chazey Partners is a practitioners-led global management consulting and advisory services firm. We bring a unique blend of real life, practical, hands on experience, empowering our clients to strive for world class excellence through Shared Services, Business Transformation, and Intelligent Automation. We pride ourselves in helping businesses and public sector organizations achieve operational excellence in the delivery of mission-critical business services; including Finance, HR, IT, Procurement, Facilities Management, Customer Helpdesk, and many other support services.  For over twelve years, Chazey Partners has helped our clients implement successful service delivery solutions; in the US & Canada, Latin America, Europe, Middle East, Africa, Oceania and Asia.