Craig Ackerman, Global Head of Robotic Process Automation (RPA) of Chazey Partners was recently invited to conduct a Process Selection Workshop at the USA RPA & Cognitive Congress 2018 organized by Kisaco Research.
The conference provided an excellent open platform for leading service delivery and automation professionals to discuss the benefits and opportunities of RPA technology, and the real-world challenges they're facing in implementation.
Organizations continuously strive to achieve greater efficiencies and more streamlined operations as a matter of course, particularly with Shared Services. Robotic Process Automation (RPA) is the latest value driver to promise a quantum advance for Shared Services.  It introduces greater speed, efficiency, standardization and accuracy and is well suited to automate repetitive, high volume, rules-based tasks.
At the event, Craig commented: "The trend in RPA is moving from 'how to get started' to 'how to scale RPA for enterprise value'. Attendees are encouraged to think about transformation, not just projects, and to start with strategy and vision for their digital journeys. It is exciting to hear case studies from companies, large and small, as they discuss where they are going with RPA in 2018."
RPA is being implemented in a broad range of industries, and it can be a game changer if it forms part of a broader transformation strategy, where all four success factors –  people/organization, process, client and technology – are taken into consideration. If your organization is constrained by repetitive manual processes, siloed business units and legacy systems, implementing RPA could enable you to unleash significant efficiency.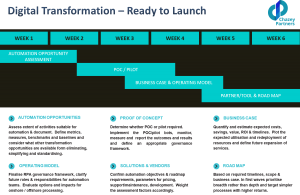 If you would like to gain a copy of the workshop slide deck, please leave your details at the contact us page.
About Chazey Partners Robotic Process Automation Solution capabilities
Our Robotic Process Automation services include:
Robotic Process Automation Assessment and Roadmap
Proof of Concept
Vendor Selection
RPA Design, Build, Deployment and Maintenance
If you wish to talk with Chazey about launching your RPA implementation journey, overcoming your RPA planning anxieties or scaling RPA for enterprise value, please contact us today.
About Chazey Partners
Chazey Partners is a practitioners-led global management advisory business.  We bring together a unique wealth of experience, empowering our clients to strive for world class excellence through Business Transformation, Shared Services & Outsourcing, Technology Enablement, Process Enhancement and Corporate Strategy Optimization. We pride ourselves in having built, operated and turned around some of the world's most highly commended and ground breaking Shared Services Organizations, and for implementing many highly successful multi-sourced (shared services and outsourced) service delivery solutions. Over the last nearly 12 years, Chazey Partners has delivered numerous programs globally, in the US and Canada, Latin America, Europe and the Middle East, and in Asia-Pacific.
Our experience covers both Private and Public Sectors, providing expertise across a wide spectrum of business functions, including Finance, HR, IT, Procurement and Customer Operations. For more information, please visit our website at www.chazeypartners.com