Robotic Process Automation has become the latest proposition to promise a quantum advance for Shared Services.  It introduces greater speed, efficiency, standardization, and accuracy to repetitive, high-volume, rules-based tasks. According to SSON Analytics, only 8% of SSOs in Latin America have not yet started their RPA journey:


(Source: SSON Analytics)
We recently attended the Shared Services Outsourcing Week LATAM conference where many shared services leaders gathered, exploring current and next generation shared services trends.  There is no doubt that RPA is increasingly becoming a critical part of the conversation for SSO leaders in Latin America.  Several companies are already taking full benefit of implementing RPA and starting to scale up with an enterprise wide robotics automation operating model.
However, RPA can't be used as a tool to 'fire off all over the place' in an uncontrolled fashion. It needs process analysis and improvement too! The adage that we should not automate a bad process is still true.  It's essential to consider what within the end-to-end processes can be Eliminated, Simplified and Standardized, rather than simply automated.  Every company should deploy a digital transformation strategy to ensure that automation technology is implemented responsibly and effectively.  It requires a formal structure, centralized control, strong governance, approved business-cases and a long-term automation roadmap. 
Another point worth flagging is that automation is no longer the sole domain of IT.  Companies must involve both the business and IT in their RPA journey.  At the conference, we saw many cases resonating with that statement. An RPA CoE leader, embedded in shared services declared "We are the business" which emphasizes how well RPA can be applied to back office processes; a Six Sigma certified Process Improvement leader shared that when he tied an RPA discussion into a facilitated Kaizen event, those involved from the business both recognized the value of RPA as well as became more invested in its success; a Sourcing Director proclaimed that RPA has continued the growth of IT leaders into becoming true business partners.
As an RPA implementation and advisory partner, we are excited to share our experience gained through real-life implementations to support SSOs in Latin America to navigate the RPA journey successfully and start to reap the many benefits that robotics offer.  We conducted a workshop at the event, sharing our observations and experience on how to build an RPA strategy for a shared services organization.  It addressed four key parts of this strategy including: 1) identify and assess opportunities for automation; 2) develop the operating model and governance structure; 3) collaborate with appropriate partners including business units and IT; and 4) deploy and maintain 'bots'.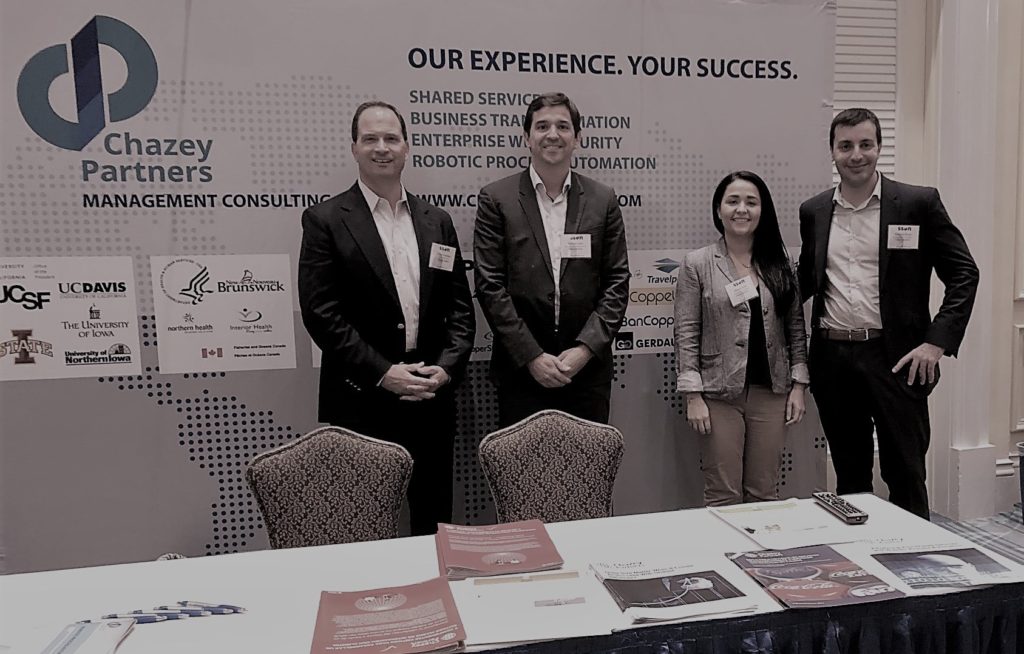 (The Chazey Team at the SSOW LATAM 2018)
The age of Robotic Arbitrage has arrived! As a Shared Services Organization in Latin America, where do you stand on the journey to deploy Robotic Process Automation (RPA)? Are you beginning to scale up for enterprise value creation, or are you lagging behind?
To download the workshop presentation deck, please click Build an RPA Strategy for Your SSO Operations. 
>> Learn more about Chazey Partners' capabilities on Robotic Process Automation